How apply for a Vietnam visa on arrival online? You would be glad when we need only your passport detail with arrival time to do a visa. It's completely different with the procedure when you apply for a visa to Vietnam at the Embassy or Consulate as you have to go there with some document that required to apply for the visa.
But first, let us present some of the benefits to you when apply for a Vietnam visa on arrival online:
It takes less than 05 minutes to complete the application form online and you will be received a result – the Vietnam visa approval letter from 2 business days or in 1 – 2 hours in urgent case even on the weekend or Viet Nam Public holidays.
We are publishing and always updating about Vietnam visa on arrival fees. Meanwhile, the visa fee at Embassies/Consulates of Vietnam are unknown as each of them has their own regulation fees. 
The Vietnam visa online approval letters are acceptable at all major Vietnam International airports. But visa application at Vietnam E-visa is required the specific name of the arrival ports, any mistake on the application form will be refuse to enter to Vietnam. Also Vietnam E-visa has it own limitation as travelers can only apply for a 30-days Vietnam visa. Meanwhile, Vietnam visa on arrival online has many choices for applicants from tourist, business to visiting family purpose and it validity can be up to 1 year as your demand.
How to apply for a Vietnam visa on arrival online on this page?
Step 1: fill out visa application form: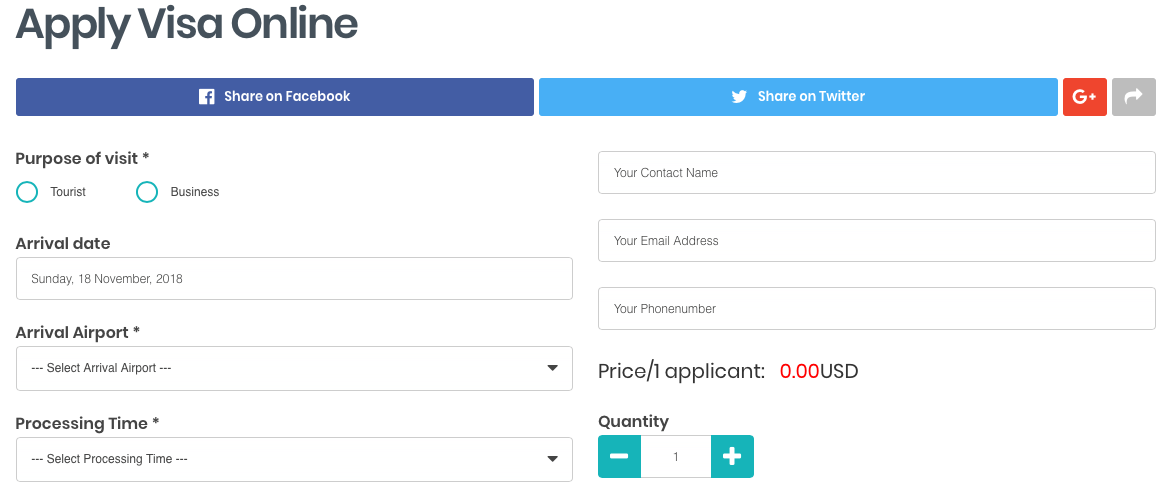 Visa purpose: tourist or business visa to Vietnam.
Note: children under 18 years old can not apply for a business visa by themselves. Applicant who has following children under 18 years old, with the business visa purpose, their child will be granted for a TT or VR visa – visiting family members visa. The service fee on type of TT or VR visa is the same with business visa. Otherwise, you have to apply the tourist visa for your child.
Arrival date: MUST be the same on the booking ticket or suppose arrival time but you need to enter any day after that time (within the validity of the visa).
Processing Time: standard time is 2 business days or least than 1 day urgent case depending on your demand.
Type of visa: 1 month or 3 months; there are some case that applicants can apply for a visa to Vietnam up to 1 year with single or multiple entries visas.
Arrival airport: these type of visa on arrival airport are accepted at all Vietnam international airports, there is no problem when you choose incorrect arrival airports. There are 07 major International airports in Vietnam:
– Tan Son Nhat International airport (Ho Chi Minh City).
– Noi Bai International airport (Ha Noi Capital).
– Da Nang International airport (Da Nang City).
– Cat Bi International airport (Hai Phong City).
– Cam Ranh International airport (Nha Trang City)
– Can Tho International airport (Can Tho City).
– Phu Quoc International airport (Phu Quoc Island).
Contact email: put your email address, we will send a confirmation and visa result via your email.
Phone number: your phone number include national zone so that we can contact in case(if any).

At applicant detail:
You need to fill out all details as same as on your passport:
Full name
Select gender
D.O.B (day of birth).
Nationality
Passport number
Passport expired day
Tick on "I agree with the Terms and Conditions" after you have read and agreed with it.
Notes: in case you want to apply for more than 1 person but do not want to spend much time on application tool, you need to adjust at "Quantity", fill in applicant detail for 1 person. For the rest, kindly send us their scan of passport via email, we will confirm after receiving it. 
Step 2: choose a way for payment.
We're using Paypal tool to run business.
Step 3: be received a confirmation via your email after completing the application.
After 2 working days in normal case or in 2 hours in urgent case ( only for type of tourist visa), YOU WILL:
Be received Viet Nam visa on arrival letter via email attached with a Vietnam visa application (Na1 form).
Print out both (the arrival letter and the Na1 form).
Tip: you should fill out the Na1 form in advance to save your time on arrival airport, see " how to fill out Vietnam visa application form?" 
Prepare 02 recent passport-type photos size 4×6cm with white background and an amount in USD for stamping fee as bellow:
– 25 USD for single entry visa ( 1 month; 3 months; 6 months, 1 year)
– 50 USD for 1-3 months multiple entries visa.
– 95 USD for 6 months multiple entries visa.
– 135 USD for 1-year multiple entries visa.
Put all mentioned things above along with your passport to submit for Immigration officers at "Vietnam landing visa office" on arrival airport. After checking, the officers will stamp the visa sticker onto your passport.
Kindly let us know if you have any difficulty on how to apply or don't hesitate to contact with us if you have any questions at:
Hotline/Whatsaap/Viber/Zalo (+84) 902 795 056 – 918 709 338
Or info@vietdreamtravel.vn – visa@vietdreamtravel.vn
Best regards,
Vietdream team.