Vietnam visa on arrival (VOA) is the best way to obtain a visa to Vietnam. Depending on your purpose of coming to our country, a suitable visa is required. 
How to apply for a Vietnam visa:
There are many types of visas which categorized: DL, DN, ĐT, VR/TT, LV1, LV2, ĐH, NN1, NN2, LD…each of them represent a different purpose of coming to Vietnam.
Procedure to apply for a visa categorized: ĐT, NN1, NN2, LV1, LV2, DN, LD, DH, TT/VR.
ĐT: Issued to foreign investors in Vietnam or foreign lawyers practicing in Vietnam
LV1: issued for people who work with offices, units of the Communist Party of Vietnam. National Assembly, Government, National Liberation Front of Vietnam, Supreme People's Court, Supreme People's Procures, Ministries and ministerial-level agencies, offices of government, provinces, cities, People's Council, People's Committee under the central city.
LV2: Issued to people who come to work with socio-political organizations, social organizations, Vietnam Chamber of Commerce and Industry
NN1: Issued to Managers of representative offices or projects of international organizations and foreign non-governmental organizations in Vietnam
NN2: issued to heads of representative offices, branches of foreign traders, representative offices of other foreign economic, cultural, professional organizations in Vietnam
DN: issued for people who enter Vietnam to work with enterprises in Vietnam.
LĐ: Issued for foreign workers who have a work permit in Vietnam.
DH: Issued to people who come to study or participate in an internship.
TT/VR: issued for foreigners who apply for a visa to follow or visit family member in Vietnam.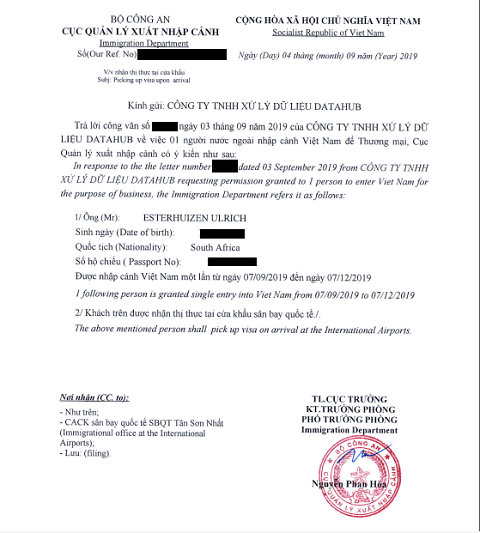 Applicants need to prepare:
01 notarized copy of investment licenses; business license; permits the establishment of enterprises or permits the establishment of representative offices of the sponsorship company.
Complete the NA2 form online https://evisa.xuatnhapcanh.gov.vn/web/guest/dvbl-khong-tai-khoan. 
Complete form Na16 – registration form of signature and seal.
A letter of recommendation from your company.
Extra requirement on the visa application for the purpose: 
LĐ: a scan of the working permit in Vietnam.
DH : the inviting letter from the sponsoring company.
TT/VR: certificates that prove the relationship such as birth certificate, marriage certificate. 
Procedure to apply for a visa for an applicant who has their spouses/parents is Vietnamese.
Notarized copy of marriage certificate/birth certificate
Family book in Viet Nam of a Vietnamese spouse/parents.
A copy/scan of Identity Card of Vietnamese spouse/parents.
Standard processing time of all the type of Vietnam visa on arrival: 3 – 5 working days.
Where do you have to submit and apply for a visa in Vietnam:
Your visa application can be solved at the Immigration Department in:
Foreigners who need a tourist visa or business visa but don't have to sponsor document can apply for a visa online on our page at  https://visaonline-vn.com/apply-visa-online/ or kindly provide us some information as bellow:
Your passport detail includes: full name, gender, D.O.B(day of birth), nationality, passport number.
Purpose of entry: tourist or business (children under 18 years old can not apply for a business visa by themselves).
Arrival date: same as arrival time on your booking ticket; or suppose a time to come (but you have to come on or after this time).
Visa type: 1 month or 3 months, for multiple or single entry
Arrival airport or borderland: these type of visa on arrival airport are accepted at all Vietnam international airports. In case you want to get a visa at borderland, please let us know the name of the International borderland in Vietnam.
Phone number: your phone number include national zone so that we can contact in case (if any).
After checking your application, Immigration Department will issue a visa approval letter, you need to submit this one at the airport/border check-in point in order to get the visa stamp into your passport. 
Before going to Vietnam, applicants need to prepare: 02 passport photo size 4×6 cm (white background, not wearing glasses), and cash for stamping fee which regulated as bellow: 

Also, you can download and fill in the Vietnam Entry and exit form in advance to save your time on arrival airport/borderland.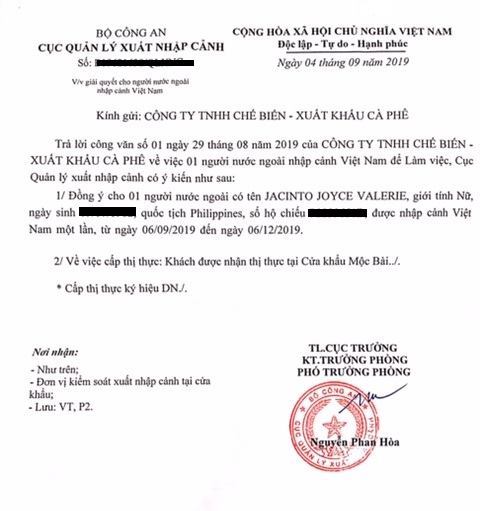 Importance note:
The type of Vietnam visa approval letter on arrival airport is accepted ONLY AND AT all International airports in Vietnam, so there is no problem when you change your destination.
To obtain a Vietnam visa stamp at borderland, the applicants have to carry and submit the original of visa approval letter in order to get it stamp into your passport. Also, you need to check about the border name as it can be used only 1 borderland that you have applied for a visa.

The original passport with at least six months of remaining validity and with 1 blank visa page.

Check about the visa approval letter once it was issued then visa stamp at borderlands/airports otherwise i will bring you such trouble later on. 
Let us know if you need any support about applying for a Vietnam visa on arrival.
Best regards,
Vietdream Trave team,