There are many foreigners who are traveling or living in Viet Nam but let their visa expire for some trouble reason such as extension fees too high; lost the passport or waiting to get a new passport and the current one is invalid… On this page, we are going to give you some examples and tips help when if you fall into one of these situations.
What the Viet Nam visa expiration date means
The visa expiration date is shown on the Vietnam visa stamp or below the entry stamp when you come with the E-visa or visa exemption case. The period between visa issuance and the expiration date is called your visa validity. The visa validity is the length of time that you are permitted to travel to Viet Nam.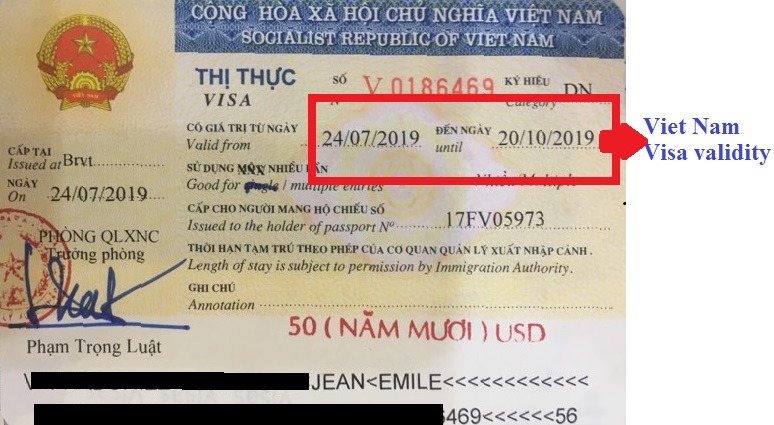 Consequences of overstaying a visa in Vietnam
You are breaking the law if you still stay after the visa expires. And you: 
Cannot work, study legally or the landlords/owners/managers cannot register your temporary staying at their hotel/house/apartment… with local police. You might be kicked out or refused to check-in.
May not be able to come back to Viet Nam again if you are here without a valid visa for 14 days or longer (new update).    
The longer you stay after your visa expires, the greater the risk you run of being detained, deported and blacklisted. Also, the fine will be going to raise up as well.
How to avoid overstayed in Viet Nam
Before discussing the possible penalty, it's better to avoid it in the first place. You should:
Always check the date on your visa stamp at arrival airports/borderlands/seaports. There have been cases when the officials give a wrong date on the Viet Nam visa stamp (postdating it back for some days or months, compared with the correct one can be a big problem and you will not be able to explain all the details when caught violating the laws). Make sure that the Viet Nam visa stamp you get shows all the correct details especially the visa valid dates.
You have to leave Viet Nam on or before the expiry of the authorized period of stay granted at admission or extend your current visa.
Check your passport validity (must be valid over 6 months period) and make sure to obtain a visa stamp when you enter another country to save your airline tickets & boarding pass and save your travel itinerary.
Things should do when your Vietnam visa is expired
In case you are going to leave Viet Nam but your visa has expired for less than 4 days, you could pay a fine at the check-in point. The fine for those cases is around 10 – 20USD per day. There is no defined fee in these cases, as sometimes Immigration officers let you go without the fine when you give them an apologize and explain the reason.
How about Viet Nam visa extension services, most of the visa agents do not ask for extra money for the fine when you overstay in Vietnam for just a few days.
Could you leave Viet Nam when the current visa already expired for more than 04 days? The Immigration officers at check-in point won't let you leave the country, you have to go back to do the exit visa and pay for fine first. And you might have to change or cancel your flight itinerary. 
What to do when your passport is lost or stolen? 
In case you lose your passport and stay beyond the visa valid date, you have to report first at the closest ward police, fill in the "Lost Report" and wait to get confirmation sealed from the police officers. Then contact your nearest Consulate/Embassy in or outside Viet Nam for an emergency passport or traveling document. Also, the Embassy will issue the letter to the Viet Nam Immigration Department which requests their assistance for a new visa for you to exit the country. 
Tips: 
Find a support from a Vietnamese; who can make translation; to help you with the Lost Report at local police office. 
Use your smartphone, tablet to take a photo of your passport in case you could not remember passport details. 
Before going to Immigration Department, you need to bring your new passport, the lost report, the request letter from your Embassy, 02 passport photos size 4×6 cm, cash for visa stamp fee and fine (depending on the period of overstaying).
Your visa application and the fine can be solved at the Immigration Department in:
The Immigration Department in Ha Noi: 44 Trần Phú street, Ba Đình.
The Immigration Department in Ho Chi Minh: 337 Nguyễn Trãi, Nguyễn Cư Trinh ward, district 1.
The Immigration Department in Da Nang: 07 Trần Quý Cáp, Đà Nẵng.
Vietdream Travel with long-time experience and good knowledge in this area, we can support you to do an exit visa and pay the fine for you. The services fee depends on the number of days you overstay in Viet Nam. 
If you want to know about the service fees, please send us a scan of your passport and the page in which contains your current Vietnam visa, the lasted entry stamp to borderlands/airports/seaports and send to our email, we will check with Immigration Department and let you know the fee. Or kindly provide us with some information as below:
Your nationality, your type of passport.
Detail of the current visa: business; tourism, visiting relatives, electronic visa (E-visa)…and it was issued for how long (1 month, 3 months or more than 3 months).
The lasted entry day and at which border: Ho Chi Minh airport, Ha Noi airport, Da Nang airport, Nha Trang airport, Phu Quoc airport or borderland…
Let us know exactly how many days you have been overstated.
We will check and confirm to you our service fees.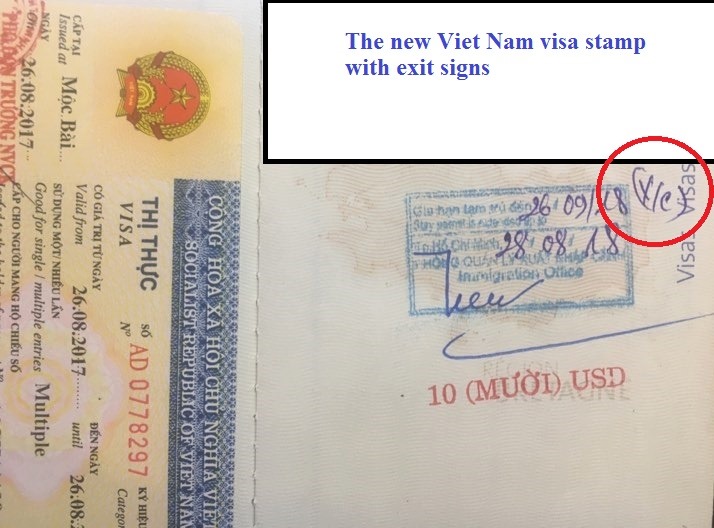 After processing time, the Immigration officers will stamp the exit visa which valid from 10 – 15 days. You have to leave the country within this period.
If you have any questions relating to an expired visa in Viet Nam, please don't hesitate to contact us via:
email: info@vietdreamtravel.co.uk
Tel: 028.38388322 -Hotline: 0918709338
Best regards,
Vietdream team,