Vietnam business visa which is categorized as visa NN1, NN2, NN3, DN, LV or DT, is granted to foreigners who come to Vietnam for business purposes. The business visa can be valid up to 1 year, on both type of single and multiple entries. To work legally, foreigners have to apply the business visa. However, there are some visa exemption cases for people who hold Diplomatic or Official/Service/Special passports.
Each visa category (NN1, NN2, NN3, DN, LV or DT) carries difference meaning:
NN1 issues to the representative officers; projects of international organizations and international non-governmental organizations (NGO) in Vietnam.
NN2 issues to heads of representative offices, branches of foreign traders, foreign representative office of economic, cultural and other professional in Vietnam.
NN3 issues to foreign workers who work with foreign non-governmental organizations, representative offices, branches of foreign traders, traders and foreign representative office of economic, cultural and other professional in Vietnam.
DN issues to foreigners who will come to work at Vietnamese companies/organization.
LD issues to foreign workers who have work permit in Vietnam.
DT issues to foreign investors or foreign lawyers practicing in Vietnam.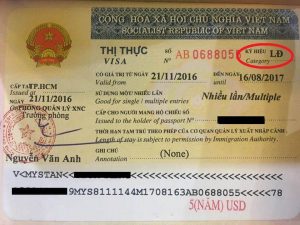 On those cases, DN visa is the most popular and easy to apply. Similarly, with Vietnam tourist visa, travelers can apply for business visa by 2 ways:
Apply for business visa at the Vietnam Embassy/Consulate abroad:
In order to apply for a business visa at the Vietnam Embassy, applicant NEED TO provide some documents as follows:
Original valid passport: the passport MUST be valid for at least 6 months. According to requirements of airlines and cruise ships with 2 blank pages. In case, there is no blank page on the passport so you need to pay extra fee to by the loose-leaf visa on arrival ports.
Application form: download and complete it in advance from the Vietnam Embassy's website or get it at their offices. The application form have to be filled with required information, signed and attached with passport photos.
Sponsor documents: These documents are provided by the hosting organization in Vietnam. It includes sponsor form and invitation letter. Furthermore, applicant need to submit the booking accommodation, working program and may need to show the flight confirmation as well.
Visa fee: each of the Vietnam Embassy has their own regulate fee. Also, it depends on length of stay and number of entry.
Processing time: from 5 – 7 working days. Most importantly, the Vietnam embassy and their Agencies do not work on the weekend and Vietnam Public holiday.
Apply online to get the Vietnam business visa on arrival airport
This is an alternatives way to obtain the Vietnam business visa which is much cheaper and simple requirement.
On the contrary to the Vietnam visa procedure at the embassy, applicants do not need provide any sponsorship documents, working program along and the original passport. You just need fill out your detail on "Apply visa online". After 3 – 5 working days (standard service) or 1 working day (urgent service), you will receive the visa approval letter via email.
What you get from Vietnam business visa on arrival is not only saving your valuable time but also your money. Furthermore, most of the visa agencies in Vietnam have published their service fee on the website. Therefore, you can check Vietnam visa fees in advance as same as visa fee on this website before applying.
Vietnam Business visa on arrival has same validity with the visa stamp that you get from Vietnamese Embassy or Consulates abroad.
What you need to prepare for the visa procedure on arrival airport?
Print out the Vietnam business visa approval letter.

Your original passport.
2 passport photos size 4×6.
The 

entry and exit form should be filled in advance to save your time at check-in area.
| | |
| --- | --- |
| 1 – 3 months single entry | 25 USD |
| 1 – 3 months multiple entries | 50 USD |
| 6 months multiple entries | 95 USD |
| Over 6 months – 1 year multiple entries | 135 USD |
At the immigration counter on arrival airport, kindly submit all the mentioned things above to officers. After checking, they will stamped the visa into your passport and return it to you.
Important:
The visa approval letter must be printed out in advance to get on the plane. Because most of the staffs from flight operators will ask you show the visa before you want to enter the country. Normally, there are some printing shops at departure airport where you can print out the letter before checking in.
If you forgot to bring along with the passport photos, it can be solved on arrival airport. You need to pay for service fee. However, it should be well prepared in advance to save your time when you arrive.
Visa on arrival is acceptable only when you come to Vietnam by airplane. Therefore, you could not use this visa approval letter at borderland. 
Vietnam business visa application online or at The Vietnam Embassy will NOT be solved during weekend or Vietnam public holiday. As a result, you have to apply the visa on arrival type of tourist during this time as it works 24.7.
Let us know if you have any questions about Vietnam business visa via
Email: visa@vietdreamtravel.vn
Hotline/Zalo/Whatsaap/Viber:(+84)90 279 5056