Follow the new that Prime Minister Nguyễn Xuân Phúc said at a Government meeting on May 10th, 2018, tourist from the United Kingdom, France, Germany, Spain, and Italy will continue to be exempted from visa until June 2021. Also, citizens who come with the visa exemption, from those countries, can extend the visa for another 15 days or 30 days. 
It is good news for those who are holding UK, Italy, Spain, France. and Germany passports wishing to visit and spend more time in Vietnam after 15 days.
How to extend 15 days visa exemption for the 5 European countries?
To apply for the new visa extension, you have to submit:
Your original passport.

 

2 recent taken passport photos size 4×6 (white background).
Your booking hotel and email/phone number to contact with.
Traveling plan and onward ticket (in case).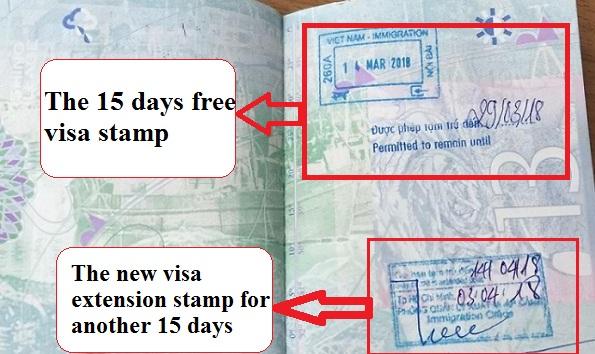 When should you extend your visa:
You need to submit and apply for a new visa before the current one is expire to avoid the fine.
Processing time: 5 – 7 working days since you submit all of the requirements to the Immigration in Vietnam.
Where do you have to submit your passport?
You have to submit your passport to the local Immigration to do extension.
Also, there are 3 majors Immigrations where you can apply to make a new visa:
The Immigration Department in Ha Noi: 44 Trần Phú street, Ba Đình.
The Immigration Department in Ho Chi Minh: 337 Nguyễn Trãi, Nguyễn Cư Trinh ward, District 1.
The Immigration Department in Da Nang: 07 Trần Quý Cáp, Đà Nẵng.
How much does it cost to do the extension?
The fee to do visa extension depends on: entry port, the term of extension…please contact directly to the local Immigration for more detail about their requirement.
In case you're in the South of Vietnam and want to apply to do a visa extension in Ho Chi Minh, you can contact with Vietdream travel for supporting. We can do the visa extension from 15 – 30 days and give you back the result within 2 – 3 working days.
If you need further information, please kindly send an email to info@vietdreamtravel.co.uk – info@vietdreamtravel.vn or call us by hotline/Viber/Whatsapp/Zalo +84-902 795 056 – 918 709 338. We are happy to assist you at our best.