There are many travelers
confused
about
Vietnam visa on arrival
and
did
not
apply for a visa before taking their flight. You need to know if you do not belong to some
visa exemption cases
, you have to obtain a Vietnam visa at the Embassy or apply online and show the result before coming to the country.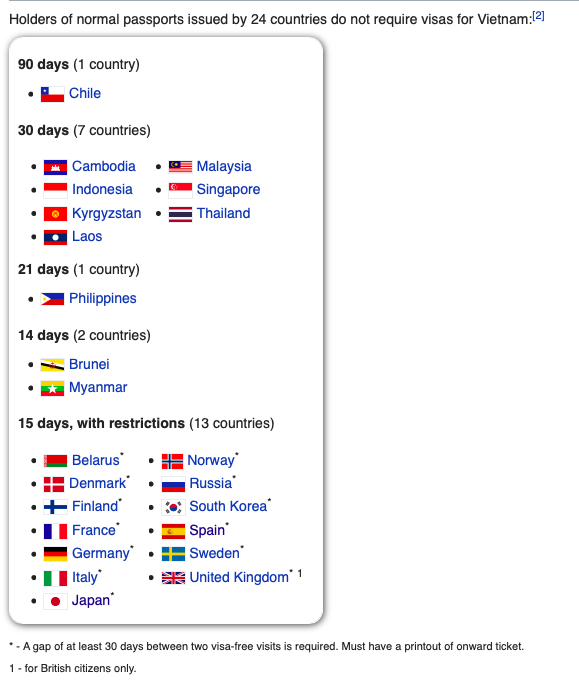 The standard processing time to apply for a Vietnam visa on arrival airport is 2 – 3 working days. To get a result beyond this period, you need to pay extra fee for urgent or emergency services.
Special notes for Vietnam emergency or urgent visa services :
Urgent Vietnam visa: In rush situation, you can get your approval letter within some hours (4-8 working hour) after making the application and confirm payment online.
The working hours in Vietnam visa are regulated by local time as bellow:
1. Vietnam urgent visa:
Moring request: if you apply for a visa and pay the fee before 9:00 Am, you will be received the visa letter around 11:30 Am or 17:30 Pm in the same day.
Afternoon request: if you apply for a visa and pay the fee before 14:00 Pm, you will be received the visa letter around 17:30 Pm in the same day or 11:30 Am next day. 
Important note:
The 4-8 working hour approval letter processing service is not available for request on weekends or Vietnam public holidays.
2. Emergency Vietnam visa:
If your flight is in
less than 3 hours
or on
weekends and Vietnam holiday
, please contact directly to us at
(+84 902 795 056)
to confirm the application. It only takes
30 – 45 minutes
to get the visa letter via your email and our staff will print the Visa Approval Letter and pick you up right after landing. He will meet you by a welcome board on arrival airport.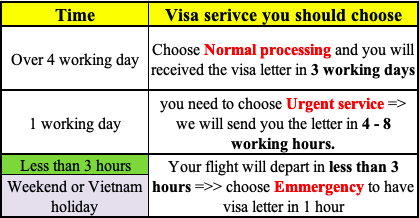 How to apply for an Emergency or urgent visa approval Letter:
Step 1: fill in 
secure form
and pay for the service fee.
Step 2: Receive the approval letter in
4-8 hours for Urgent case
and less than
1 hour for the Emergency case
via your email.
Step 3: Print all required documents, prepare 2 passport-sized photos (white background) and cash for stamp fee on arrival airport.
Please remember:
The business visa on arrival airport can not be obtained for an Emergency case. So you have to choose a tourist visa.
Your passport must be valid for 6 months or more beyond the entry date.
If you need any support please contact directly to:
Hotline/Whatsaap/Viber/Zalo (+84) 902 795 056 – 918 709 338
Or visa@vietdreamtravel.vn – visa@vietdreamtravel.vn
Best regards,
Vietdream team.