You are Angolan or have relatives or friends who are Angolans, who are Angolan citizens. Currently, there is a desire to go to Vietnam to travel and visit relatives in 30 days. Let's find out about this Angolan Tourist visa application form.
Angolans can get visa-free entry to Vietnam
Angolans are one of the difficult countries to get a visa to Vietnam, on the other hand, Angolan passport holders are not exempted from visa to Vietnam, but can still enter Vietnam by applying for a Vietnam visa.
Conditions for Angolans to apply for a Vietnam visa
Similar to other nationalities, Angolans also need to ensure some of the following conditions to be able to apply for a visa to Vietnam:
Angola passport valid for at least 6 months
Have a travel agency in Vietnam guaranteeing visa application?
Not on the list of restricted entry to Vietnam
Can Angolans get Vietnam Evisa?
Vietnam currently has issued an e-visa by online declaration on the public service portal for 80 countries that are granted Evisa Vietnam, but Angola is NOT on the list of Vietnam e-visa granted.
Angolans who want to go to Vietnam for tourism can ask a travel agency in Vietnam to guarantee to apply for a visa to travel to Vietnam.
There are two ways. The first, through the Vietnam Embassy ,The second is getting a visa on arrival airport (VOA).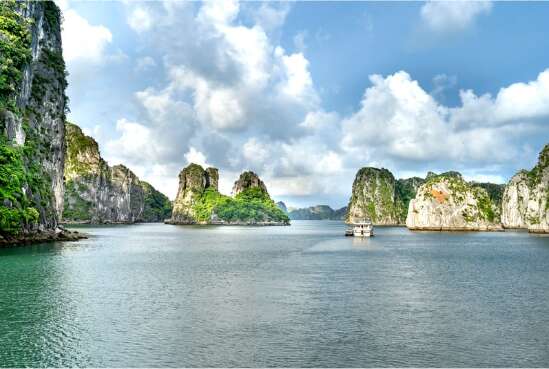 1. Apply at Vietnam Embassy
Address : Via AL4, Lotes No. 4-5, Talatona-Luanda Sul, Luanda.
Telephone : (+244) 222.010697.
E-mail : vnemb.angola@mofa.gov.vn  or sqvnangola@gmail.com
Website :  www.vietnamembassy-angola.org
It should be noted, the Embassy is closed on Saturdays, Sundays, both Vietnam ​and public holidays of Angola
2. Vietnam Visa on arrival
The easiest way to get a Vietnam visa for Angolan citizens is applying for a visa online. In this way, you don't need to visit the Vietnam Embassy or send off your passport to the Office. In short, you just need to complete 03 simple steps as below:
Apply online by secure application form
Receive a pre-arranged visa letter via email.
Print out the letter and submit it to get the visa stamp after you arrive at Vietnam international airport (Ha Noi/ Ho Chi Minh/ Da Nang/ Nha Trang…). That's all
After all, if you have any questions about Vietnam visa requirements for Angolan citizens, please contact us via:
Or info@vietdreamtravel.vn – visa@vietdreamtravel.vn
Best regards,
Vietdream team.