Visa on arrival (VOA) is an alternative method that allowed you get the visa stamp upon arrival international airport in Vietnam.
Instead of going to the Vietnam Embassy to apply for a visa, nowadays, many travelers prefer to apply online through agents and get a visa on arrival airport.
How does the Vietnam visa on arrival work?
Step 1: fill in the visa application form and settle a payment via Paypal.
Step 2: get a visa approval letter after some working days.
Step 3: print out the visa approval letter, prepare 02 passport photos (size 4x6cm, white background), cash for stamping before coming to Vietnam.
On arrival airport in Vietnam, you just need to submit it all the mentioned things at STEP 3 with your original passport to officers at "visa office", they will check and put the visa sticker onto your passport. That's it!
For more detail about how to apply for the visa on arrival, please click here!

What is the benefits of Vietnam visa on arrival?
No document or original passport is required to apply on this type of visa to Vietnam. Things will be done online
100% legal process as the visa approval letter is granted by the Immigration Department in Vietnam.
Easy to apply and get a result in 3 – 4 working day (standard processing time). Expedited service is available, you can get a result in 1 working days or 30 minutes in the Emergency cases – just a couple minutes before your flight takes off.
It is rather cheap compared with other forms of getting a visa for Vietnam.
It available for many purposes include tourist, business visiting relative, investing, student/internship, working visa…but only on the tourist and business visa, we need only your passport and arrival time. For another type of visa, you can check here for its requirement.
No country is limited on this process.
People who use the visa on arrival airport can enter through any International airport in Vietnam as bellow:
Noi Bai International Airport (Hanoi capital)

Tan Son Nhat International Airport (Ho Chi Minh City)

Cat Bi International Airport (Hai Phong city)

Da Nang International Airport (Da Nang city)

Cam Ranh International Airport (Khanh Hoa province)

Can Tho International Airport (Can Tho city)

Lien Khuong International Airport (Da Lat city)

Phu Quoc International Airport (Phu Quoc island)

Phu Bai International Airport (Hue city)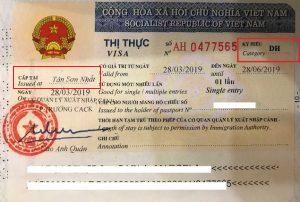 Vietnam visa on arrival fees:
There are two types of fees you need to pay:
Service fee: paid online to the agency to obtain the Visa approval letter.
Stamping fee: paid in cash on arrival Vietnam International Airport in order to get visa stamped.
Here is a sample fee board for Vietnam visa on arrival fees provided by Vietdream travel:

Visa on arrival processing time:
Standard processing time:
2 – 3 working days for a tourist visa
3 – 4 working days

for the business visa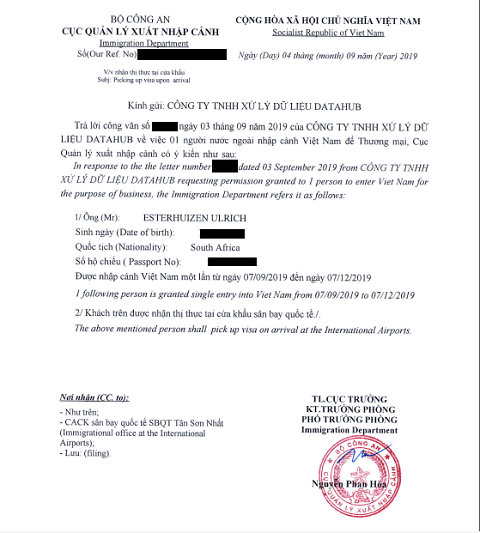 Vietnam visa on arrival services are available for travelers who need an urgent or emergency visa to Vietnam on the weekend or Vietnam Public holiday. See how it works!
Extra Notes:
Beside some visa exemption cases, the visa on arrival to Vietnam means travelers have to get the visa approval letter, in order to get the actual visa sticker upon arrival airport, before coming to Vietnam. 
Vietnam visa on arrival airport is used for air travel only. In case you travel to Vietnam via borderland, you are required to get a sticker at the Embassy in advance or contact with the local visa agent to check if they deliver the original visa approval letter to you. (click here to see full instruction about visa at borderland).
Your passport must be valid for at least 6 months before arrival time.
Children having their own passports need to apply for a visa and be charged with the same fee as adults.
Stamping fee on arrival should be prepared in cash with USD.
There is NO OFFICIAL website for the Vietnam visa on arrival service. All websites are run by a visa agent, travel agency in Vietnam. Do not get confuse with some internet domain such as org, govt, gov, vn…
If you have any questions about Vietnam visa on arrival airport, please contact directly to: