Spanish DO NOT need an entry visa for a stay of a maximum of 15 days in Vietnam or If you have a diplomatic passport, you can stay for no more than 90 days within 180 days.
It should be noted: after your 1st visa exemption period, you have to wait outside Vietnam for at least 30 days to get the next visa exemption period. Therefore, you need to apply for a visa to Vietnam when you want to spend more than 15 days in this country or a gap between two visa-free is less than 30 days.
Documents to enter Vietnam by visa exemption include:
Passport valid for at least 6 months from the intended date of entry and has at least 2 blank pages.
Round-trip airfare or to 3rd country.
Confirm hotel reservations, motels, accommodation in Vietnam.
Travel insurance (recommended, not required).
Spaniards enter Vietnam on a visa-free basis, 2 consecutive times must be at least 30 days apart.
At the end of 15 days, the visa exemption cannot be extended, Spaniards must leave the country.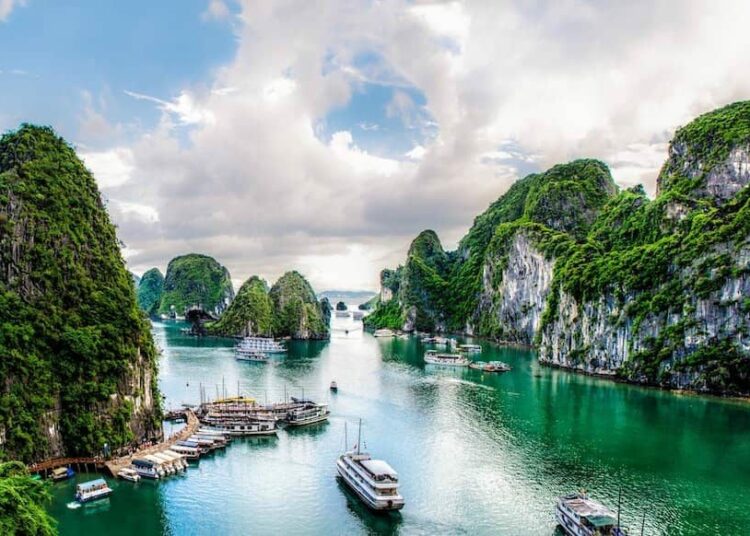 Do Spaniards need a visa while staying in Vietnam?
Want to stay in Vietnam longer than 15 days.
To work, work, labor, study, … at businesses, schools, need a visa for the right purpose.
There are 3 ways to apply for a visa to Vietnam for Spanish citizens as follows:
Visa on arrival: Visa is stamped at the airport through the Arrival Letter.
Apply for a visa at the Vietnamese Embassy in Spain (including 5-year visa exemption).
e-Visa
1. Apply at the Vietnam Embassy
Here are the contact details of the Vietnam Embassy in Spain.
Address: Calle Segre No5, 28002 Madrid.
Tel: +34-91-5102867
Fax: +34-91-4157067
Email: vnemb.es@mofa.gov.vn
The Embassy closes on Saturdays, Sundays, both Vietnam ​and public holidays of Spain.
2. Vietnam Visa on arrival
Another way to get a Vietnam visa from Spain is applying for a visa online. In this way, you don't need to visit the Vietnam Embassy or send off your passport to the Office. In short, you just need to complete 03 simple steps as below:
Fill out the secure application form
Receive a visa approval letter via email after processing time.
Print out the letter and submit it to get the visa stamp after you arrive at Vietnam international airport (Ha Noi/ Ho Chi Minh/ Da Nang/ Nha Trang…). That's all.
e-Visa
e-Visa Vietnam is issued to Spanish for the purpose of tourism:
The maximum duration is 30 days and is only allowed to enter once, not extended.
After all, if you have any questions about Vietnam visa requirements for Spanish, please contact us via:
Or info@vietdreamtravel.vn – visa@vietdreamtravel.vn
Best regards,
Vietdream team.