Vietnam is one of the popular travel destinations for Koreans. With beautiful natural landscapes, diverse culture and unique cuisine, Vietnam has attracted many tourists from Korea. However, to be able to visit and experience a long time on this country, Koreans may need a tourist visa. In this article, we will learn about the procedures for applying for a Vietnam travel visa for South Korean and how to obtain this visa.
Currently, South Koreans can apply for 2 types of traveling visas to enter Vietnam:
Regular visa: allows Koreans to enter Vietnam one or more times within a certain period of time, valid maximum of 90 days.
Visa-free: allows foreigners to enter Vietnam once and have a maximum stay of 45 days.
How to apply for a Vietnam Travel visa for South Korean
There are 2 ways to get a Vietnam visa:
Applying at Vietnam Embassy:
Address: 123 Bukchon-ro, Jongno-gu, Seoul, Korea. 
Tel: +82-2-720.5124/+82-2-725.2487
Fax: +82-2-720.4684/+82-2-739.2064
Email: vietnamembassyseoul@gmail.com
To apply for a tourist visa, you can follow these steps:
Fill out the visa application: You can download the visa application at the website of the Vietnamese Embassy in Korea or pick it up at the Embassy.

Prepare necessary documents: You need to prepare documents such as passport valid for at least 6 months, latest photos, work certificate, financial proof…

Submit application at the Embassy: After preparing all documents, you can submit your application at the Vietnam Embassy in Korea or via the online visa application service.

Waiting for results: Visa application review time is usually 5-7 working days. If your application is accepted, you will receive a tourist visa and can enter Vietnam.
Consular Office:
1. Receiving Documents Hours:
– Monday and Thursday: 09.30-12.00
– Tuesday, Wednesday, Friday: 09.00-12.00
2. Returning Results Hours: 14.30-17.00 every working day.
The Vietnam Embassy is closed on Saturdays, Sundays, and during Viet Nam and South Korea holidays.
Visa on arrival (VOA)

 
Another way to get a Vietnam travel visa is applying for a visa online. In this way, you don't need to visit the Vietnam Embassy or send off your passport to the office. In short, you just have to follow 03 simple steps as below:
Complete the secure visa form online
Receive a visa approval letter or Vietnam Evisa after processing time.
Submit the letter to get the Vietnam visa stamp upon arrival airport.
That's it!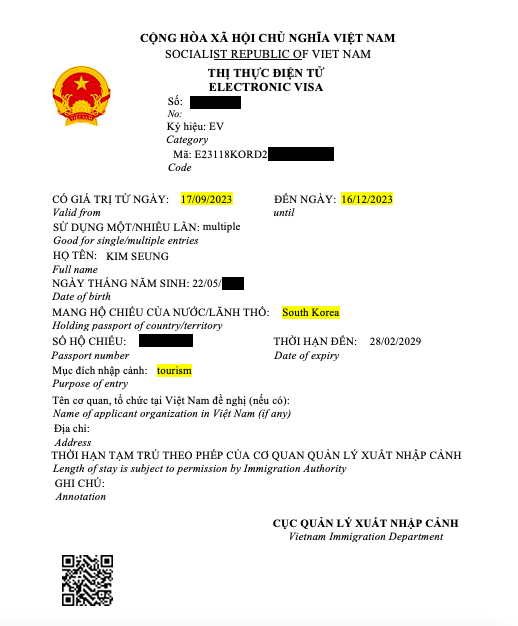 How much does Vietnam Travel Visa for South Korean cost?
When you apply for a Vietnam visa at the Embassy/Consulate of Vietnam, it would be better to contact with them to get a confirmation about their regulated fees and processing time.
Applicants who apply for the visa on arrival need to pay 02 types of fees: service fee and stamp fee.
Service fee pays for visa agents to handle your visa application at the Immigration Department.
Stamp fee is regulated by the Vietnam Ministry of Finance. You need to pay on arrival airport in order to get visa stamp onto your passport. It should be noted with the Evisa, our service fee has included Government fee.
Here is our regular updated of the travel visa on arrival fees, after taking a look, you can also click down here to
The standard processing time is 05 working days, and urgent visa service is available. The Vietnam travel visa on arrival airport works on the weekend and public holidays on both countries.
Visa extension is also available when you want to spend more time in this country.
After all, kindly let us know if you have any questions about Vietnam travel visa for South Korean via:
Hotline/Whatsaap/Viber/Zalo (+84)28 3838 8322 – 918 709 338
Best regards,
Vietdream team.
Follow us for the best deal with Vietnam package tours and visa advice!