This page explains the procedures of extending/renewing your Vietnam visa for any purpose from business, working; visiting relatives to traveling… Extend the Vietnam visa must be applied before your current visa expired. Also, it takes 5 – 7 working days to get a new visa stamp as well.
What is the difference between the Vietnam visa extension and renewal? 
Visa extension means you get a new staying duration permission in Vietnam but could not use to re-enter. If you exit Vietnam before this visa expired, it will be canceled. So that means you need to apply for a new visa if you wish to come back to Vietnam after leaving. 
Visa renewal means you will be granted a new sticker of staying duration permission. The staying length is the valid maximum for 12 months with type of multiple entries. That mean you can enter and exit unlimited time during the visa validity.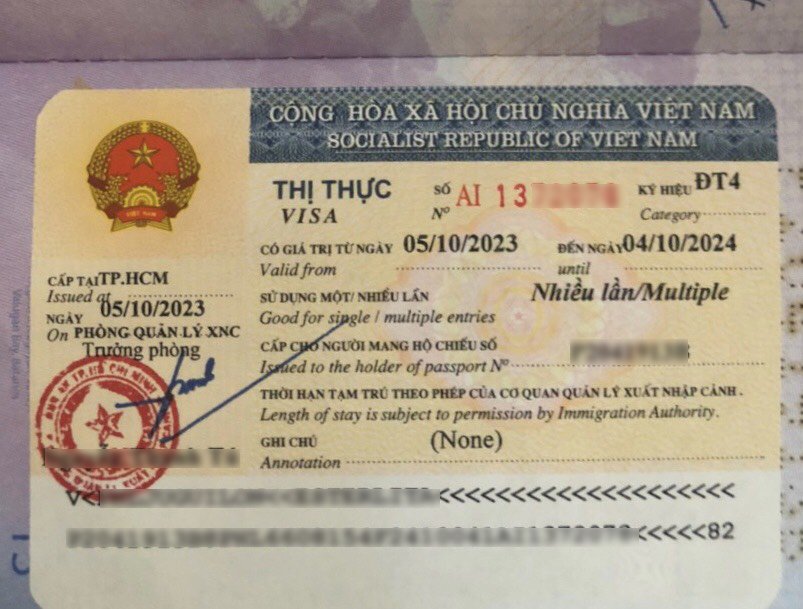 Procedure to extend a Vietnam visa
I. For visa categorized DT, DH, DN, LD, LV1, LV2, TT/VR with a sponsor company in Vietnam .
These visas are issued for people who working, investing, studying with an organization …or who following their parents/spouses with sponsoring company/school in Vietnam.
Prepare a notarized copy of the investment licenses; business license; permits the establishment of enterprises…
Complete the Na5 form (visa applicant form for visa issuance, stay extension form).

Original passport with valid visa.

02 passport size 4×6 cm (white background).

Complete form NA16.

Proof of temporary residence certificate issued by a competent Vietnamese agency.

A scan of the previous visa approval letter that you used to obtain the current Vietnam visa sticker onto your passport.

A letter of recommendation from your company.

A 

notarised

 copy of the work permit to extend case of LD (working visa); a copy of legalized and notarised copy of

birth/marriage certificate to extend case of TT/VR (dependent visa).
Submit all of these documents to the Immigration office where your sponsoring company is located.
II. For tourist, e-visa, exemption cases.
Follow the Immigration Law 2019 stipulate travelers who come with the tourist; e-visa, exemption cases (exclude 5 years visa certificate) will only be entitled to a temporary stay of 30 days.
Processing time: 5 – 7 working days after you submit all of the requirements.
Incase you can not extend/renew the visa, you can do visa run to obtain a new Vietnam visa.
Visa extension/renewal service fee:
The visa extension/renewal fees are vary as it depends on a list of requirement of bellow (especially when you work through visa agents).
Your nationally, type of passport (ordinary, diplomatic or service category passports).

Your current visa such as tourist, business, dependent visa…

The lasted entry time and at which border/airport/seaports.

Location of sponsoring company (if any).

Lengthen of stay ( 1 – 3 months, 6 months or 1 year) and type of visa that you want to get (single or multiple entries).

…
Don't hesitate to contact us when you have any questions relate to Vietnam visa extension services. We're willing to give you full instruction to get a new visa base on the current law in Vietnam.
Best regards,
Vietdream travel team.