This post was created to help foreign travelers, who applied for the Visa Approval Letter, know the way to get the visa stamp when they arrive at Vietnam airport. Here is some information you need to prepare (A1):
The visa on arrival airport is accepted at all Vietnam international airports. There is no problem when you change your destination airport. There are 07 major International airports in Vietnam:
Tan Son Nhat International airport (Ho Chi Minh City).
Noi Bai International airport (Ha Noi Capital).
Da Nang International airport (Da Nang City).
Cat Bi International airport (Hai Phong City).
Cam Ranh International airport (Nha Trang City)
Can Tho International airport (Can Tho City).

Phu Quoc International airport (Phu Quoc Island).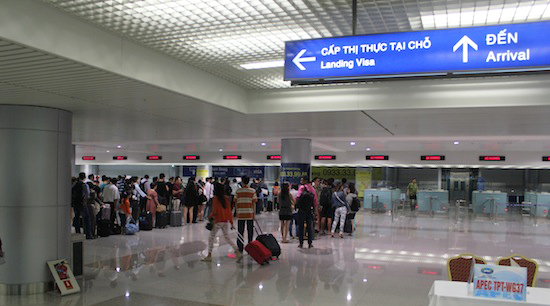 Visa procedure at Vietnam International airport.
Since arriving to the airport, you need to enter the Immigration hall and search for a sign-posted "LANDING VISA" counter. Another name could be used such as "VISA ISSUING OFFICE" or "VISA ON ARRIVAL" counter.
Submit all the things we mentioned at "A1" to officers at the office and wait until they call your name to get back your passport with the visa stamp. Normally, it takes about 20 – 30 minutes to complete the procedure.
If you need someone to support you with the visa procedure, please select "fast track service" when you for a visa approval letter.
Note: after getting back your passport, you should check the visa stamp again for errors while you are still at the office. Then you go straight "Passport Control Counter" to get the "Entry stamp"; cross the check-in point. The visa procedure is done in here.
Travelers who have a valid visa stamp or belong to visa exemption cases can go straight to arrival check-in point and exit the airport.
Let us know if you have any questions
Best regard,
Vietdream team.