You are a citizen from Tonga and want to apply for a Vietnam visa for a period of 1 month to 3 months but encounter many difficulties due to differences in language and administrative procedures. To ensure your trip goes as planned, contact Vietdreamtravel for a professional, economical and fast tourist visa service for foreigners entering Vietnam. As you may know, Tongan citizens need a visa to Vietnam. However, there is no Embassy on the island so visa on arrival (VOA) the best way to get a visa for you.
Vietnam Visa on arrival for Tongan Citizens
In order to get a visa on arrival airport, applicants need to follow 3 simple steps as below:
Fill in the Vietnam visa application form and settle visa fee.
Receive visa approval letter or Vietnam E-visa via email.
Print out the letter and submit it at "visa office" after arriving at Vietnam International checkpoints to get a full stamp into your passport.
That's all.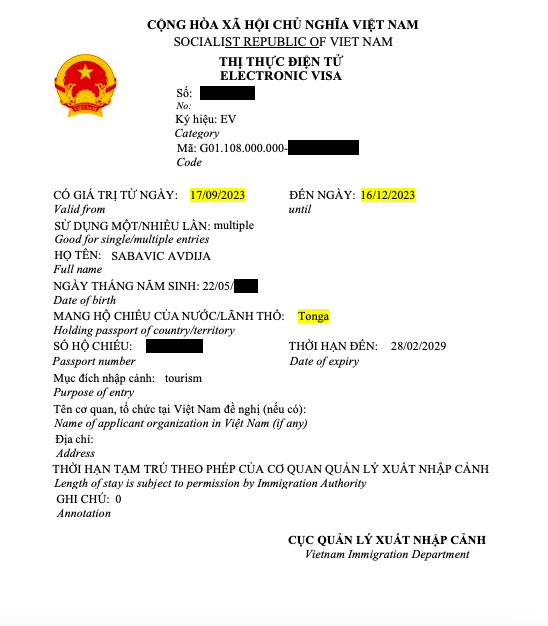 Useful post:
How to Apply for Visa at Vietnam Airport for Tongan Citizens
Before you apply for a visa at Vietnam airport, you need to prepare the following necessary documents: passport valid for at least 6 months from the date of entry in Vietnam; invitation letter or E-visa… 
After getting a visa and come to Vietnam, you need to go to visa counter and apply for a visa. In here, you need to present necessary documents include passport, registration form, invitation letter, documents related to the purpose of the trip and appropriate visa. After checking the documents, the officers will ask you to pay a fee and take photos to apply for a visa.
Visa procedure time is usually around 15-30 minutes depending on airport processing procedures.
How much does a Vietnam visa on arrival for Tongan citizens cost?
There are 02 types of fees you have to pay: the first is the service fee pays for visa agent to handle your visa application at the Vietnam Immigration Department. And the second is stamping fee pays to Immigration Officers on arrival ports to get visa stamp into your passport.
Here is new update visa on arrival fees for applicants in Tonga. After taking a look, you can:
The standard visa processing time is around 5 working days and visa urgent service is available.
Importantly, the visa on arrival works on the weekends, both Vietnam and Tonga public holidays.
After all, if you have any questions about Vietnam visa on arrival for Tongan citizens, please contact us via:
Hotline/WhatsApp/Viber/Zalo (+84)28 3838 8322 – 918 709 338
Best regards,
Vietdream team.
Follow us for the best deal with Vietnam package tours and visa advice!